All New Trend Reports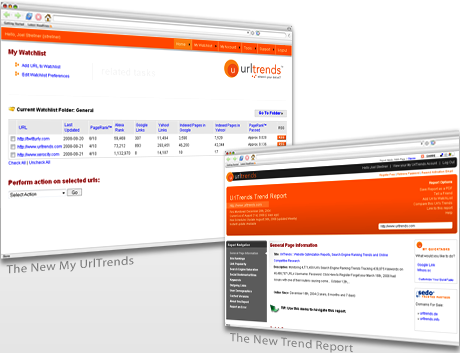 Our recently redesigned Trend Report will allow you to view vital search engine information about any url that you enter. The Trend Report will allow you to see the Urls link popularity, PageRank™, Alexa Rank, keywords that you can find the site by and more.
The redesign of the Trend Reports have made them much easier to digest. The two largest changes are the more informative charts and the long single page has been broken up onto multiple pages. Oh, and did we mention more information has been added? We now track over 50 different pieces of information about every url in our systems. And yes, the Trend Reports still do what they have always done, they will track the trends of the url over time and display them to you.
An unlimited number of trend reports can be generated without registering and at no cost, however if you register you can track these reports via the My UrlTrends interface, email or even through a personalized RSS feed. If you would like the information updated on a weekly basis we offer paid plans that will allow you to track an unlimited number of urls.
To generate a Trend Report enter a url into the text field above, or if you just want to find urls that are related to a certain subject, enter a search term.
Free SEO Tools
This is one of the simplest tools we offer. You enter a URL and we will instantly check the URL and then display to you the HTTP Headers that are sent back to us.